George Nyfeler, LS, LEED AP
President and Land Surveyor
Education: BS, Urban Studies and Planning, Virginia Commonwealth University;
Attended US Military Academy 1980-1983 with the class of 1984.
Professional Registrations: Virginia, District of Columbia, North Carolina, Oregon
George has been managing professional design services for 25 years and working in various land surveying capacities for 36 years.
His first 10 years were spent working on field crews in Texas, Colorado, Martha's Vineyard Island, and across Washington and Oregon states. In 1992, George was a survey crew chief for complex layout for a new hydroelectric dam built by Torno America in Randle, Washington. The most recent 25 years of George's surveying career have taken place in or near the eastern half of Virginia with some recent projects taking him to Fort Bragg, North Carolina, the District of Columbia, Portland, Oregon, Everett, Washington and McMurdo Station, Antarctica.
In Virginia from 1996 to 2006, George led a large and diverse surveying department of more than 20 surveyors. While there, he introduced high-accuracy construction layout to the firm, winning a contract to provide more than $1-million in survey layout over an 8-month period for the construction of a $1.5-billion semiconductor manufacturing facility. He also initiated the firm's first use of a boat-mounted sonar fathometer linked to RTK-GPS to complete a hydrographic survey of the bottom of a 2,500-acre lake.
Having managed civil engineering design projects in-house from 2006 to 2012, George and his team are acutely aware of what is needed in a topographic/design/utility survey to best support engineering clients.
More about George may be found at: https://www.linkedin.com/in/georgenyfeler/.
When not working, George enjoys spending with family – especially back country trekking and trout fishing.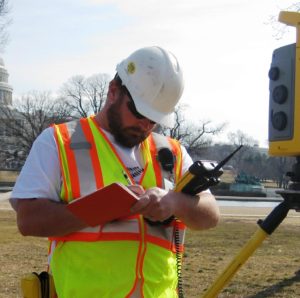 James Ryan West, LEED AP
Senior Project Manager
Education: BS, Psychology, Virginia Commonwealth University, 2004
James had been surveying for several years when he and George decided to begin working together about 13 years ago. Whether managing projects from behind a computer monitor using AutoCAD Civ3D or from a TSC3 Controller 115-feet off the ground at the controls of an aerial work platform, James makes things happen in an accurate and productive way.
James was lead field surveyor for the complex National Gallery of Art Stone Repairs Project where our contract called for vertical location tolerances to remain under 0.0052-ft over the course of a 3-year period. Required elevation reporting locations were evenly spaced vertically from the ground to points 110-ft above the ground.

James was central to our successful completion of a 40-acre existing facility topographic survey in 2012 at Quantico Marine Corps Base performed for the $99-million design-build Marine Corps University Expansion. The challenging 18-day deadline for completion required by our contract was met. Other projects managed by James include the Richmond Justice Center, Huguenot High School Replacement, the US Army TRADOC Headquarters Relocation to Fort Eustis, and countless boundary and topographical surveys.

When not at work, James can often be found with a guitar and microphone in front of a crowd somewhere in RVA with the rest of his band, 'Lowbirds'.
Karen Hubbard
Survey Project Manager
Education: BA, Landscape Architecture, University of Illinois at Urbana-Champaign, 2010
Karen is a detail oriented project manager who came to us from the Pacific Northwest. She participated in all 118-laser scans for the creation of a 5-billion node 3D model of the steel structure holding up the all-iron U.S. Capitol Dome. She also performs and manages boundary and topographic surveys and is experienced in construction layout and managing crews from the field and from the office.
When not remotely running one of our robotic instruments or a laser scanner, Karen enjoys spending time outdoors.